This happened to me over the weekend. Audio was crackly and garbled. I thought it was my blue tooth but nope, FM had the problem too. Restarting the engine didn't make a difference either. It has since gone away. I noticed that on the TSB it says the normal warranty applies so I assume that after the 3/36 the TSB won't apply. I have HondaCare but I'm unsure if it will be covered after the 3/36 expires. I had an Accord that had a problem for which there was a TSB but it was past the 3/36 and Honda Care would not cover it. I guess now I have to go to the dealer and play the "could not duplicate" game. Maybe I'm getting ahead of myself but if they don't fix this before the 3/36 is up, the Passport will be going on the chopping block.

Now I'm reading car complaints and see this has been extended to 5/60 and there is a class action?

Honda crackling and popping speakers have caused a class action lawsuit that alleges these vehicles suffer from speaker noise even if the sound systems are turned off.
Yes Honda has extender the infotainment system warranty to 5 years/ 60k miles. And I think the class action lawsuit has been settled.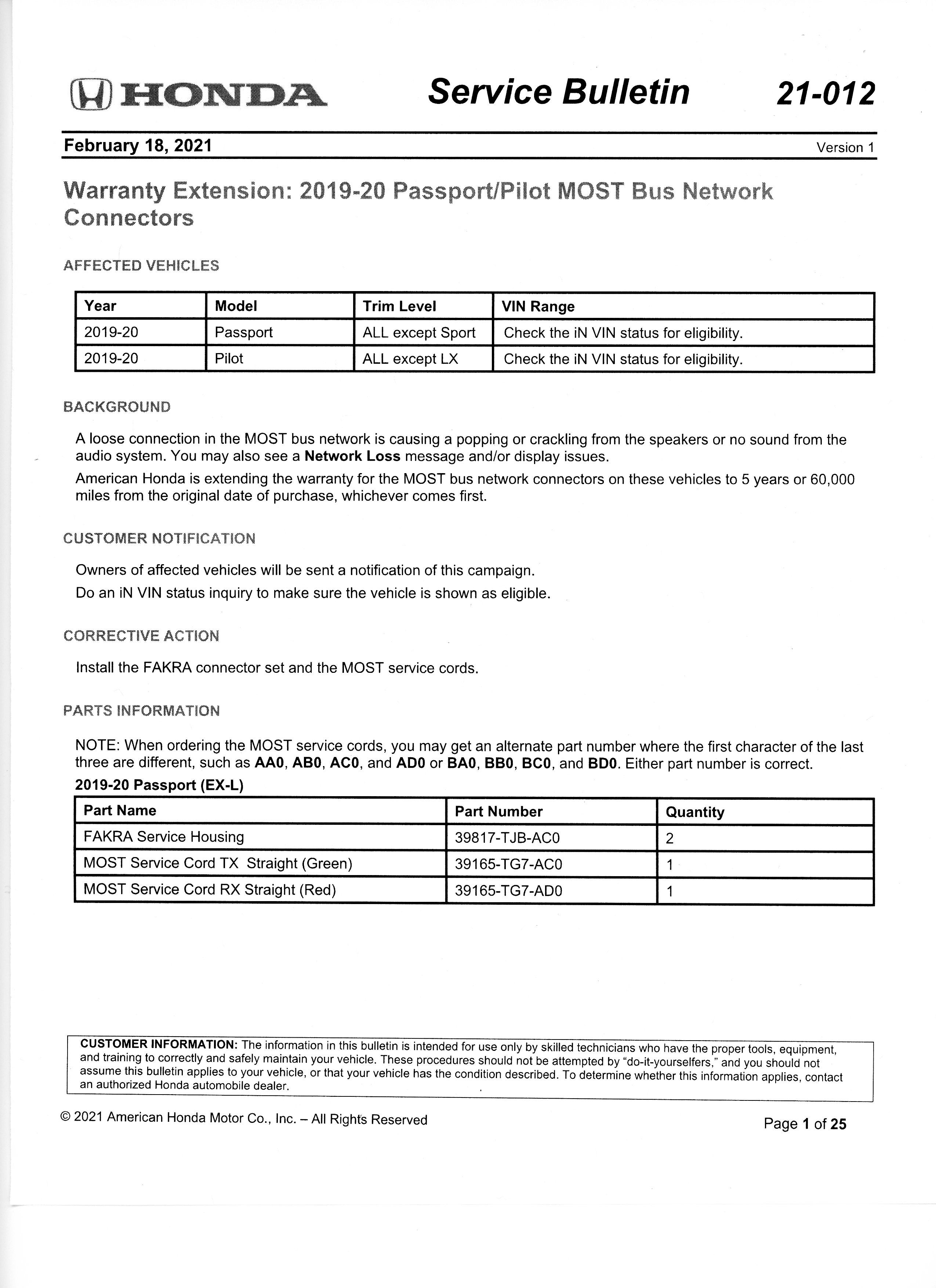 Back in August, 2020, Honda issued Service Bulletin TSB 20-058 Display Audio Failure, with it's 'FIX' for the popping & crackling speakers, and no sound from audio, and network lost faults. Reviewing feedback on this forum it appears this TSB solved almost all those specific issues. That TSB...

www.passportforums.com
Just received another email from Honda: October 04, 2021 P-A-N-D-A BORING, OR Dear P-A-N-D-A: You are receiving this email because our records indicate that you are a current or former owner or lessee of a 1) 2018 or 2019 Honda Odyssey vehicle with EX, EX‑L, EX‑LNR, Touring or Elite...

www.passportforums.com