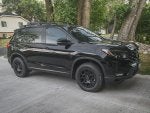 New owner of a 2022 Honda Passport EX-L in Black, got it for ~$45K after taxes/fees etc. I have about ~1,200 miles on it so far and have nearly completed my build, just waiting on the SS3s to come and install.
Installed/Purchased the following OEM and aftermarket accessories (and installed my self) so far:
OEM

Honda Roof Rails
Honda Crossbars
Honda Trailer Hitch & Harness
Honda ATF Cooler
Honda HPD Mud Flaps (not pictured)
Honda Grill Accent Piece, Gloss Black
Honda Black Emblems

Aftermarket

Black Rhino Overland Wheels, 18", 35mm Offset
Falken Wildpeak A/T Trail Tires, 245/60R18
CarlinKit 3.0 Wireless Apple CarPlay Adapter
Idlestopper Auto Idle Stop OFF Module
WeatherTech HP Floor Liners
Tint

Front Driver & Passenger Windows, 30%
Front Windshield, 50%

Lasfit LEDs

Front Turn Signals
High Beams
Reverse Lights
All interior lights

Diode Dynamics SS3 Max Amber Fog Light Kit + HD Harness (not installed, on the way) *edit: these are now installed! (see pics)
I sold my 4Runner (pic below) to get a more reliable (less modded and less maintenance requiring) and better MPG car, that can still tow 5,000lbs, and is easier for my wife to also drive. We can still put our Go Fast Campers rooftop tent on the OEM crossbars, and still plan to camp often with this. Not likely any off-roading like we did in the 4Runner, but I have other vehicles dedicated for that now. The Passport is everything I was hoping it would be and more, I've owned 2 Hondas and 1 Acura in the past and happy to return to the Honda family.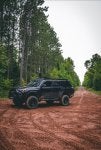 Let me know if you have any questions!